So you're the main character in an international, long distance, cultured love story? You, a darling American with life, liberty, and happiness at your fingertips, while the object of your affection is a stunning, Exotic Species of Culture that you adore and want to build a future with and you've made your plans; all that waits is the vow itself. So many of my clients plan to marry abroad, and they simply need some help with the particulars, so they don't get DENIED a marriage license because they were oblivious to the particulars. Today, we will be exploring the BEST, SAFEST, and SUREST way for a smooth international wedding/marriage through acquisition of an apostille of eligibility to marry.
Often times, when an American is marrying someone of another nationality outside the United States, the country will require the American to provide documentation that he or she is eligible to marry. In legalese, we call this an apostille of Eligibility for Marriage, and its used to prove that you aren't already married, or in a pending divorce, because even though you're in the process of divorce, you're still *ahem* legally. married. So, an apostille of eligibility for marriage is simply a notarized document you get through your state's secretary of state office. Getting married in the United States is often times far easier than it is to marry in another country. Typically, in the United States, you can get a K visa, and with the k visa's passport, the K visa holder may marry the US citizen, stateside. States often do not require an apostille for eligibility of marriage; however, if you're previously married, they will ask for your divorce decree (bring an original and a certified, translated copy). Less I digress, if you, an American, wish to marry your foreign-born spouse abroad, go to your state's nearest Secretary of State office, and ask for an apostille of eligibility of marriage.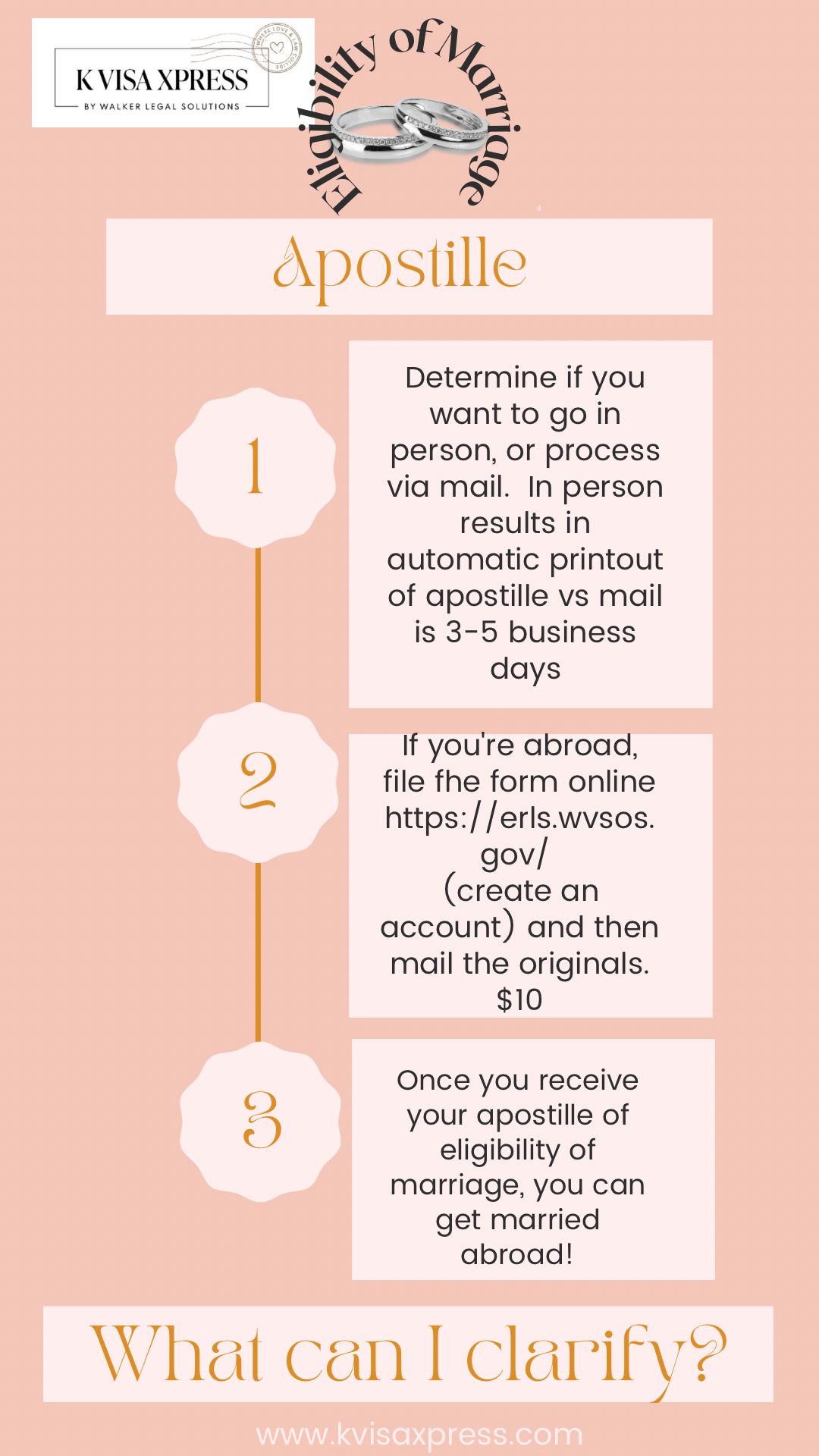 Sometimes there are online services that provide this, but it's quite unnecessary, as they only add-on fees and make it more expensive. For example, in West Virginia, all you have to do is go to https://erls.wvsos.gov, register for an account, pay $10 and mail your original documents to get the apostille. You will have the document within 3-5 business days! Moreover, if you go to an office in-person at the West Virginia Secretary of State, you will get the print out immediately. All states will vary but this is simply a demonstration of how simple it is to secure this document. I cannot understate this enough: if you're planning to get married outside the United States, swing by your state's secretary of state office and get this document! It will make for a smooth marriage process abroad! Once you're married, you can file your I-130 and file to get your new spouse to the USA!
Do you want to know the background of an apostille? It's so fascinating! It all stems back to the 1961 Hague Convention, where 119 countries convened at The Hague, Netherlands, devising a way to abolish requirements to legalize foreign public documents. This convention, known as The Apostille Convention, was established to simplify the recognition of formal governmental documents from other countries. Through the treaty, an apostille (French for certification) is added to the document vis-à-vis (what is known in the US as) a notary, making it legally valid for use in international settings. As of the date of this blog, there are 124 countries abiding by the Apostille Convention. If you want more information, check out The Hague to see how your US State abides by the convention at: https://www.hcch.net/en/states/authorities/details3/?aid=353 . Similarly, you can get more information at the US State Department site here: https://travel.state.gov/content/travel/en/records-and-authentications/authenticate-your-document/apostille-requirements.html .